BMW Updates 3 Series Segment For The Year 2021
For the 2021 model year, the BMW 3 series has been revised for India. The BMW 3 Series Gran Limousine is introduced by the German Brand, which is the first right-hand Drive version of the 3 Series. The BMW 320d Sport was discontinued in March 2020 and was again launched in August 2020.
With the discontinuation of 320d Sport, only one of the 3-series diesel engine models remained in the Indian lineup of BMW–the 320d Luxury Line. The 320d comes with a 2.0-liter, four-cylinder turbo-diesel engine which produces 190hp, 400Nm torque, and an 8-Speed Automatic Gearbox torque converter. The 320d line is priced at Rs 47.9 lakh.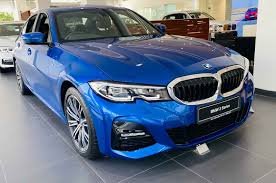 The 3 series also comes with a turbocharged 2.0-liter petrol engine which produces 258hp and 400Nm of torque. There are two trim levels for the 330i-Sport and M Sport. Like the 320d, the 330i engine is paired with an 8-speed automatic gearbox converter. For the sport range, the price starts at Rs 42.6 lakh and for the M sport, it goes till Rs.49.9 lakh.
The BMW 3 series rivals against the Mercedes-Benz C-class (Rs 41.31-54.25 lakh) and Jaguar XE (Rs 46.64-48.50 lakh).
Are you excited to know more about the BMW 3 Series Line-up? Comment own below
Also, see
2021 Suzuki Hayabusa Image Leaked Ahead Of Launch: Video
2021 Hayabusa To Reveal on February 5
2021 Tata Tiago Limited Edition Teased Ahead Of Tomorrow Launch