Honda new scooter patent design
Honda, the Japanese two-wheeler maker, is focusing on a completely new compact petrol-CVT scooter. A collection of the same patent photos leaked online, showing the 'futuristic' styling style that combines tons of curves and folds. As an early release, the Honda new scooter patent design isn't well documented. It's fascinating to see Honda operating an ICE scooter while famous names concentrate mainly on all-electric cases. Still, a handful of Honda e-scooters is in the pipeline.
It sports a very revolutionary theory of architecture. A single assembly is created by the apron frame, floorboard, and rear pocket, which folds into the upper half of the apron. The Honda new scooter patent design, is an idea at the patent point, has no illumination systems or registration plates. Unlike every other Luxury scooter running on the market right now, the windscreen condition is special. A pocket is present behind it to position the instrument cluster (most definitely a wireless device with various communication choices to keep with the trend). Observe, and a few plastic boxes can be located on the apron.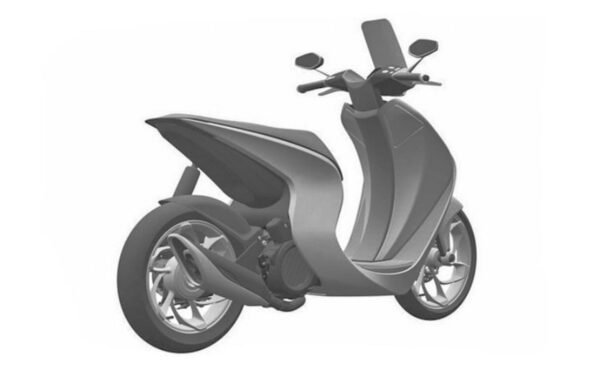 The Honda new scooter patent design runs on big 'turbine-like' alloy wheels (smaller and narrower at back; shod with a thinner tire) with a comparatively small front-facing radial-caliper disk brake. Telescopic front forks and a single side-mounted panel at the rear conduct the suspension duties. Again, this is an early experimental version in digital media and may be considerably different from the final model. It won't be shocking even if the idea never reaches volume.
It is too early to draw any assumptions about the engine and features of the unidentified scooter prototype. The motor size described here, however, indicates it may be aimed at the 150-160cc range. The PCX 150 maxi-scooter is the most luxurious petrol-CVT model in this segment inside Honda's global portfolio.
It is powered by a single-cylinder OHC FI 149cc water-cooled engine which makes 14.79bhp @ 8,500rpm and 14Nm @ 6,500rpm. In comparison, the lesser Honda PCX 125 uses a 124cc engine variant and produces approximately 12bhp @ 8,500rpm and 12Nm @ 5,000rpm.
At the moment, the Forza maxi-scooter tops Honda's scooter collection. The new Honda Forza is powered by a 248 cc water-cooled single-cylinder OHC engine. It is churning out between 23bhp @ 7,500rpm and 24Nm @ 6,250rpm. Meanwhile, Honda Motorcycle & Scooter India (HMSI) introduced the most luxurious BS6-compliant scooter, Grazia 125, recently. Powering the machine is a single-cylinder 124cc air-cooled FI perfect for 8.14bhp @ 6,000rpm and 10.3Nm @ 5,000rpm. Prices continue at 74,000 ex-showroom close Rs.
Are you excited about the Honda new scooter patent design? Comment down below
Also, see
Mahindra Mojo 300 BS6 launched
KTM Duke 250 LED headlamp updated