Hyundai T SUV Vision Concept
At the Los Angeles Auto Show late last year Hyundai removed the covers of the Vision Project Hyundai T SUV. The plug-in hybrid concept foresaw the carmaker's new design path, with a look identified as 'Parametric Dynamics' by the designer. It's a programming language for foreign markets that have also appeared on the new Elantra.
The Vision Concept T has a profile SUV-coupe and sharp lines, with short front and rear overhangs, all giving it a sporty look. The front features a distinctive headlamp and grille style, covering a practical item with its unique pattern. The patterning carries over into the inverted L-shaped headlamps that seem to meld seamlessly into the grille with nothing to tell the two apart before the units are illuminated.
The grille also features active elements moving inward with small flaps to allow air into the engine bay. The front bumper carries distinctive light elements with the air dam's upper lip containing narrow vertical strips of light extending from the middle to the edges. The headlights light up in a series, with each unit lighting from the outer edge from the down.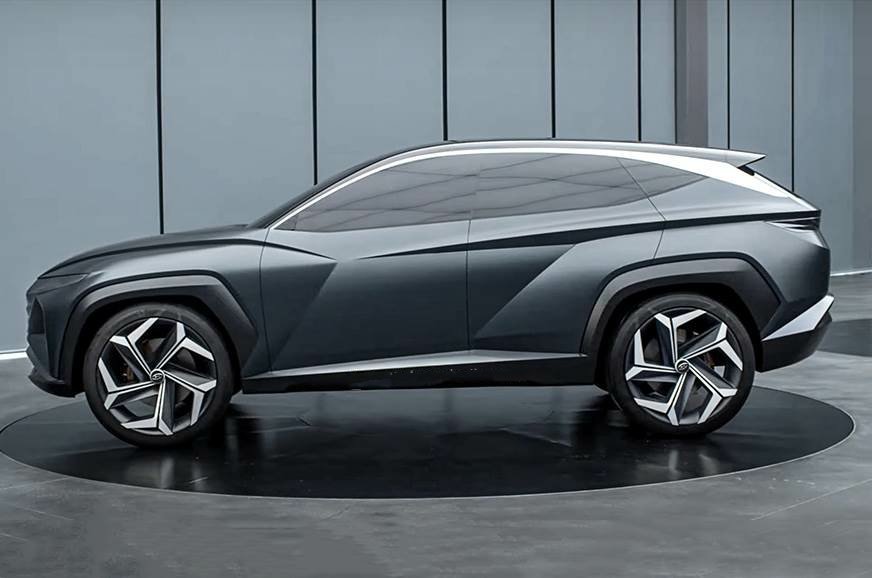 Moving to the sides of the Hyundai T SUV, the raised bonnet rises to a prominent crease that appears to extend from the inside edge of the headlights before flowing down into the fenders and overlapping at the beltline at the front doors.
Around the front door onwards the beltline grows progressively thicker, forming a wedge-like protrusion that rises to the rear and wraps around the rear. Large wheels fill the prominently flared, squared-off wheel arches; the low roof-line adds to the dynamic look.
The roofline tapered around the back into an integrated spoiler feature. The prominent wedge-like crease divides the rear glass from the tailgate-spanning tail-lamps, which also features the unique hidden look and angular pattern. A secondary lower crease on the tailgate gives a layered feel to the back, the bumper being finished to feel like a faux diffuser.
Hyundai gave no information on the plug-in hybrid powertrain of the Vision  Hyundai T SUV. The charging port lies on the rear quarter panel and while charging, a blue light illuminates. A circular luminous cluster displays the vehicle's charge point.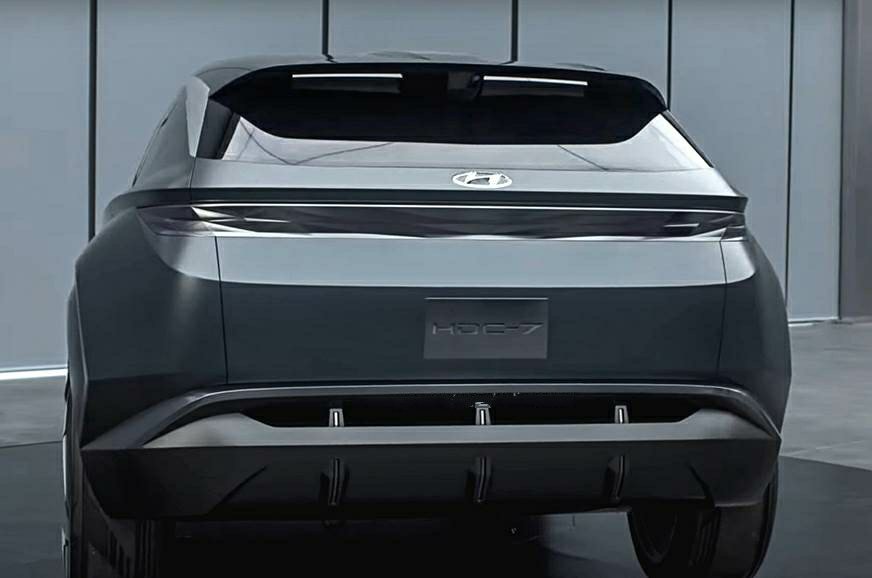 The Hyundai Tucson's next model is previewed in the Vision Concept T. This also offers hints to the design direction of other Hyundai vehicles, such as the recently unveiled next-gen Elantra, the first production car to use the design language 'Parametric Dynamics.'
While the new Tucson is still some time away, Hyundai India is gearing towards launching the current-gen Tucson's much-anticipated facelift. The facelift was first shown earlier this year in India at the Auto Expo and is expected to be launched soon.
Are you excited about the Hyundai T SUV? Comment down below
Also, see
2020 Honda City to launch on July 15
In June 2020 Kia Motors India sells 7,275 units