Rafale fighter Jets: Specifications, Capability, Top speed, Size and Price
Usually, we don't post about jets and airways but as this is a proud moment for all the Indian citizens, we have come up with this blog only for information purposes. Just read it out and get all the details about  Rafale fighter Jets. 
Rafale is a Dassault Aviation designed twin-jet fighting aircraft. The aircraft is equipped to carry out operations of air superiority, interdiction, airborne identification, land assistance, in-depth attack, anti-ship attack, and nuclear deterrence.
Ceremonial Water Cannon Salute for the #Rafale upon landing in India. 🇮🇳 pic.twitter.com/EczvTGtxj7

— Aditya Raj Kaul (@AdityaRajKaul) July 29, 2020
The plane can hold a variety of powerful weapons. European rocket producer MBDA's Meteor beyond the visual range of air-to-air rockets and Scalp cruise missiles will be the core of the Rafale fighter jet weapons kit.
Meteor is the BVR air-to-air missile (BVRAAM) next-generation intended to revolutionize air-to-air combat. The aircraft was developed by MBDA to counter traditional threats to the UK, Germany, Italy, France, Spain, and Sweden In addition to the missile systems, the Rafale fighter jets would be fitted with numerous Indian-specific upgrades, including Israeli helmet-mounted screens, radar warning receivers, low-band jammers, 10-hour flight data logging, infrared detection and monitoring devices, among others.
Here's what you'd like to know about Rafale Fighter Jets, specification, top speed, size, design, cockpit
COCKPIT
The Rafale cockpit holds a hands-on throttle and stick (HOTAS) control feature. The cockpit also has a wide-angle monitor and Thales Avionique provides the avionics with the required aircraft control and firing signals details. The war pilot has a scope installed on his mask. And there is a camera and onboard recorder which records the view while the mission takes place.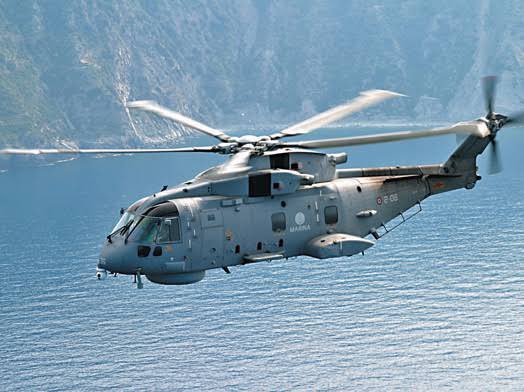 THE ENGINE
The Rafale has twin M88-2 engines, each capable of producing dry thrust and afterburners of up to 50 kilonewtons (11,000 pounds-force) and 75 kN (17,000 pounds-force). This also provides the facility for a refueling buddy-buddy that enables one fighter aircraft to transfer the fuel to another while still in action.
Many of the cutting-edge technologies they've used involve single-piece bladed piston disks and single-crystal turbine blades as well as ceramic coatings which is why it's so common. The engines drive the Rafale to achieve a 1.8 Mach (1912 kmph) high altitude, and a range of more than 3700 km with 3 drop tanks.
THE WEAPONS
The Rafale arms (Air Force version) are reported to bear more than 9 t of payloads. And they will carry the naval variant 13 t. The weapons range through Sidewinder, Apache, Harpoon, ALARM, PGM100, Magic, and Mica. This can hold anti-ship and air-to-air rockets, and it can fire targets on the ground about 300 km away from the SCALP rocket.
Around the same time, it can also shoot for eight specific goals. It has a twin-gun tank, as well as a 30 mm cannon that can shoot in one minute over 2500 bullets. The bird is also equipped with technologies that make missile laser guidance.
And that is how the refuelling is done mid-air #RafaleJets#RafaleInIndia now pic.twitter.com/47F5qkA7iL

— Vidya (@journovidya) July 29, 2020
COST
In September 2016 India concluded an intergovernmental agreement with France to purchase 36 Rafale fighter jets at a rate of about Rs 58,000 crore.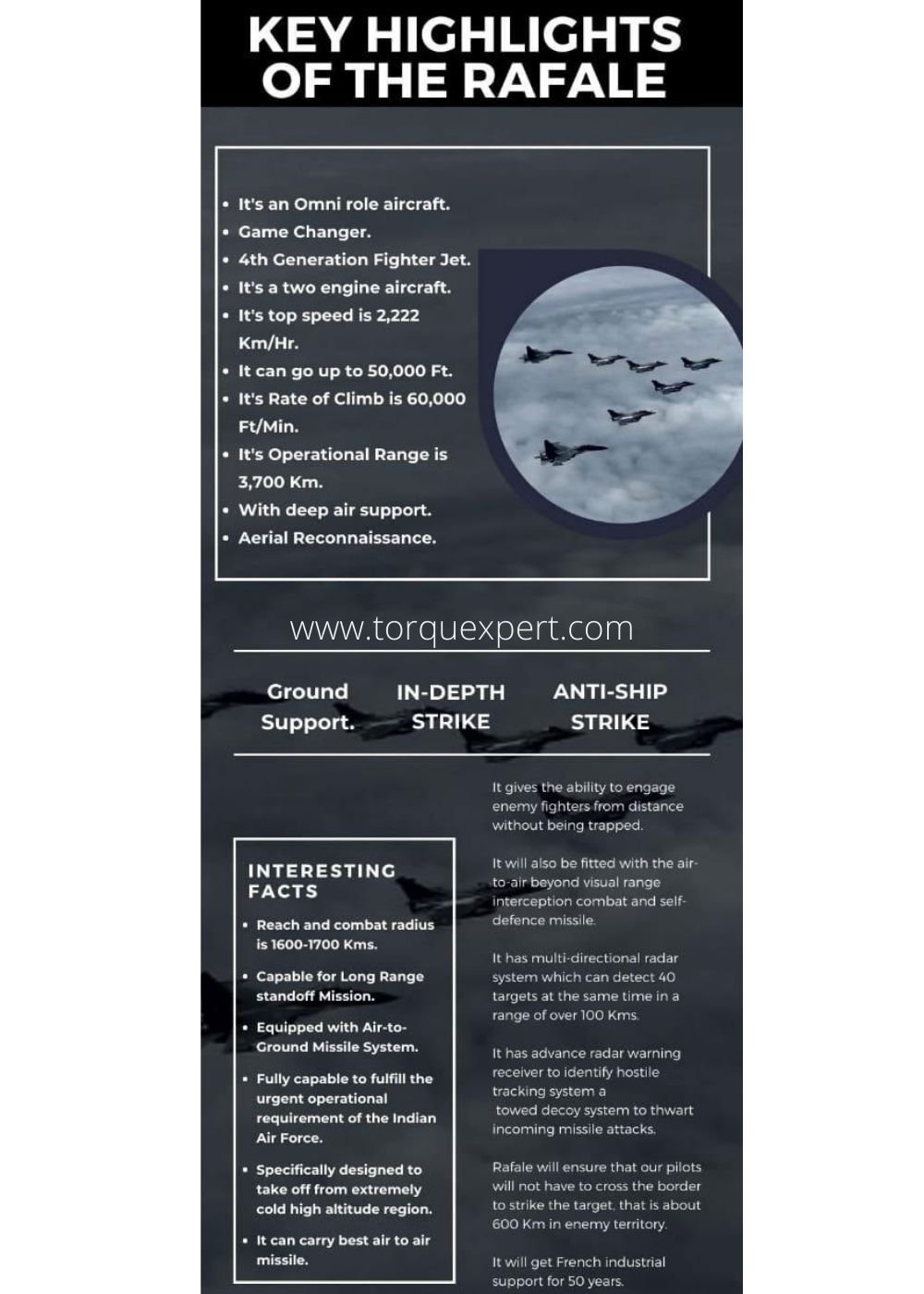 SPECIFICATIONS OF THE RAFALE JET
Dimensions: 
Wingspan: 10.90 m
Length: 15.30 m
Heigh: t5.30 m
Performances:
Max. thrust: 2 x 7.5 t
Limit load factors: -3.2 g / +9 g
Max. speed: M = 1.8 / 750 knots
Approach speed: less than 120 knots
Landing ground run: 450 m (1,500 ft) without drag-chute
Service ceiling: 50,000 ft
Weight: 
Overall empty weight: 10 t (22,000 lbs) class Max. take-off weight: 24.5 t (54,000 lbs)
Fuel:(internal): 4.7 t (10,300 lbs)
Fuel (external): up to 6.7 t (14,700 lbs)
External load: 9.5 t (21,000 lbs)
Tell us what you think about the Rafale fighter Jets? Comment down below
Also, see
Skoda India strengthens its online touchpoints
2021 Rolls-Royce Ghost to debut soon