Lamborghini Huracan Sterrato Teased
Through an official teaser, Lamborghini has announced that the Huracan Sterrato supercar is almost ready for production. The Sterrato, which is Italian for "dirt road," is an off-road-focused variation of the normal Huracan EVO that was first shown off as a concept back in 2019.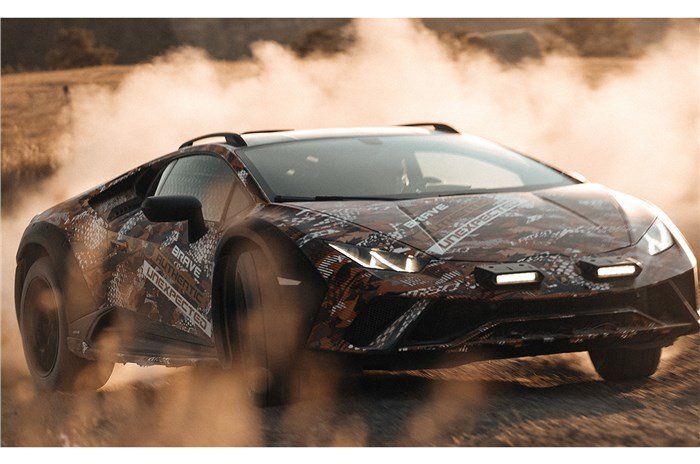 The pre-production Huracan Sterrato is covered in camouflage and has dual LED auxiliary lights on the front bumper, just like the concept version. The Sterrato has side skirts, front and rear fenders, and bolt-on plastic cladding, which makes the alterations to the sides fairly noticeable. In order to provide the engine with additional cooling, these are supplemented by roof rails, slightly modified side intakes, a new diffuser, and a sizable roof-mounted scoop.
In order to improve underbody protection, it is anticipated that the Huracan Sterrato will include a composite panel from the idea together with front and rear skid plates. The Lamborghini Huracan Sterrato has also received a modified suspension for a higher ride height, as well as thick tires mounted on 20-inch alloy wheels.
The teaser suggests that the Huracan Sterrato will most likely be powered by the same 5.2-liter, 640-horsepower naturally aspirated V10 engine from the Huracan EVO that is paired to a 7-speed dual-clutch automatic transmission, even though the Italian supercar manufacturer has not yet disclosed the powertrain details. The Lamborghini Dinamica Veicolo Integrata (LDVI) onboard drive management system, first shown on the concept version, will be modified to offer more torque to the rear wheels for better handling in the mud. The Lamborghini Huracan Sterrato will be their first two-door supercar with an off-road focus.
It is not yet known if the Huracan Sterrato, which is scheduled to be released in October 2022, would have limited manufacturing run like the Sián FKP 37. The company has also discussed its plans to electrify its model lineup starting in 2023, and it has confirmed that the new Aventador Ultimae LP780-4, Huracan, and Urus would all have hybrid powertrains.
Are you excited about the Lamborghini Huracan Sterrato? Comment down below
Also, see
Suzuki Jimny 4Sport Limited Edition Revealed
Aprilia RSV4 Trenta Limited-Edition Coming Soon