Mercedes EQE Teased ahead of Its Unveil In Munich
Mercedes-Benz has revealed that eight new cars will be unveiled at this year's Munich Auto Show, which runs from September 7 to 12. The all-electric EQE sedan, AMG's first electric vehicle, and an electric Maybach concept are among the models making their world debuts.
Mercedes-Benz has remained tight-lipped about the EQE's specifics so far, but a few teaser photographs have given us a sneak peek at the impending all-electric sedan. The rear quarter of the sedan is shown in the external view, which confirms that the Mercedes EQE will be styled similarly to the EQS. Streamlined aerodynamics, strong haunches, and slim taillights will distinguish it.
The interior photograph, on the other hand, nearly totally displays the EQE's cabin. The MBUX Hyperscreen, which includes a 12.3-inch digital instrument cluster, a 17.7-inch infotainment system, and a 12.3-inch display for the front passenger, dominates the interior. A floating center console, Mercedes' characteristic turbine-style air vents, ambient lighting, a redesigned three-spoke steering wheel, and a head-up display are among the interior highlights.
Despite the fact that Mercedes-Benz hasn't said anything about the powertrain or its characteristics, it's likely to be comparable to the one used in the EQS. That implies a 450 model with a rear-mounted electric motor providing 329 horsepower and 568 Nm, as well as a higher-spec 580 4Matic model with dual motors and all-wheel drive producing 516 horsepower and 855 Nm.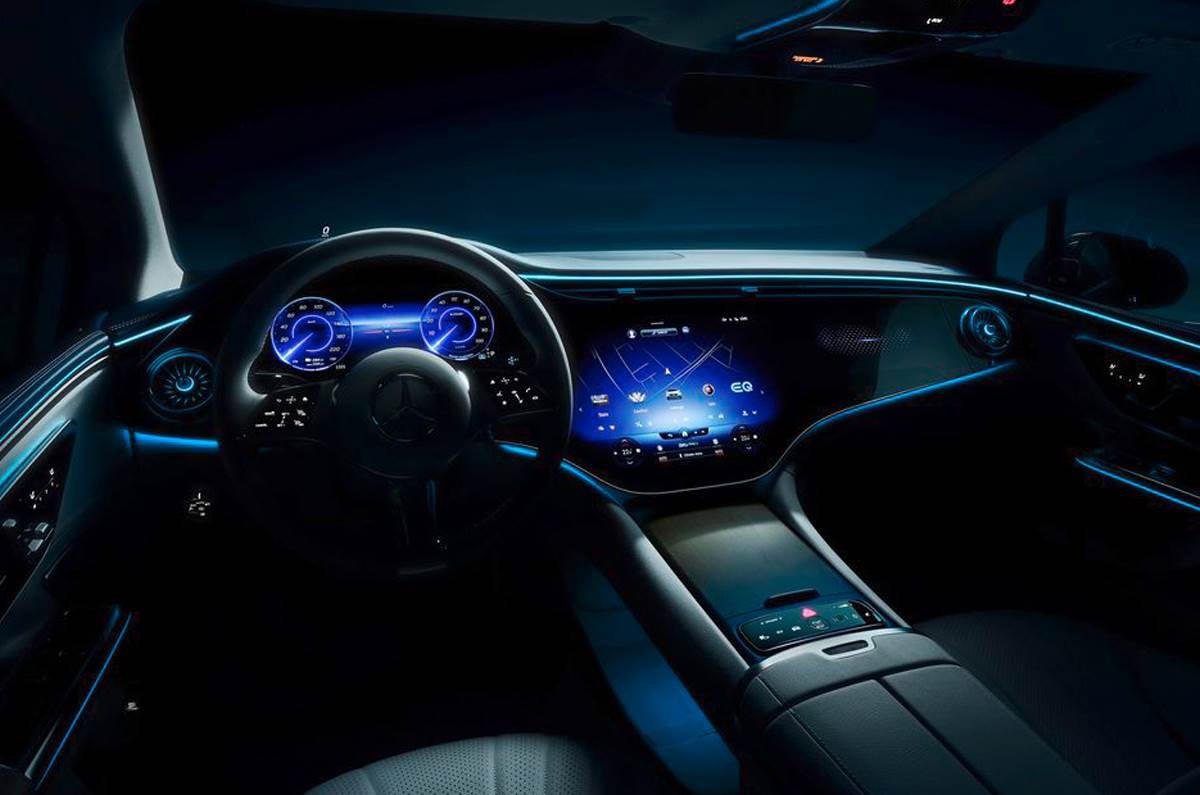 Mercedes will also unveil the first-ever electric AMG vehicle, in addition to the Mercedes EQE. Because the company says it'll be a sedan, it's likely to be a high-performance version of the EQS. Although nothing is known about the all-electric AMG at this time, Mercedes has previously stated that it will be capable of producing up to 751 horsepower, making it even more powerful than the AMG GT Black Series.
The company will also display an electric Maybach concept, which will demonstrate "how the 100-year history of ultimate automotive luxury can be carried forward into a new era," according to the company. While this does not reveal what model it could be, Mercedes-Maybach recently teased an ultra-luxury version of the EQS SUV, which could be the company's first all-electric vehicle.
The Mercedes EQE will also make its European debut at the Munich Auto Show, according to Mercedes-Benz. Mercedes-AMG will use the event to debut its first performance hybrid, in addition to all-electric automobiles.
This will most likely be a hybrid version of the GT 73 four-door coupe, which features a twin-turbo 4.0-liter V8 engine, a 6.1kWh battery pack, all-wheel drive, and a rear-mounted motor with up to 201 horsepower and 320 Nm of torque.
Mercedes previously stated that the first hybrid AMG will produce more than 805 horsepower and 1,000 pounds-feet of torque. It should be able to sprint from 0 to 100 km/h in under three seconds. Finally, Mercedes will display the new S680 Guard and C-Class All-Terrain models.
Are you excited to know more about Mercedes EQE? Comment down below
Also, see