2022 Polestar 3 EV Teased
The third Polestar model, a stunning electric SUV with a performance focus, will go into production in the United States next year.
The SUV will be the first Volvo Group car to utilize parent firm Geely's new SEA architecture and will be known simply as the 3. This follows Polestar's number naming philosophy.
The 2022 Polestar 3 will be constructed alongside the current S60 and the next-generation XC90 at Volvo's Ridgehill plant in South Carolina, in accordance with the electric performance brand's global ambitions.
Following China, where Polestar models are now produced, the United States is the world's second-largest global market for electric vehicles.
Shorter delivery times for American clients are said to be among the advantages of US production, as is the reduced environmental impact of shipping automobiles around the world. Polestar argues that this will also allow the 3 to be provided at a competitive pricing point. The styling of the 3 is yet to be revealed.
The 2022 Polestar 3 will compete with the Jaguar I-Pace and Tesla Model X, with the SEA underpinnings expected to deliver competitive performance.
The Chinese Zeekr 001 shooting brake, which employs a 543hp twin-motor engine to achieve 0-100kph in 3.8 seconds, promises a range of up to 700km from its largest (100kWh) battery.
The higher 3 will place less emphasis on raw speed, but Polestar has indicated that it would prioritize aerodynamic efficiency, most likely in order to maximize range.
A Google-developed infotainment system, similar to the Polestar 2, and a range of "high-end, safety-focused automated driving technologies" are also included.
Polestar is likely to offer a separate Performance Pack for the 3, similar to the 2, which will include upgraded suspension and brakes.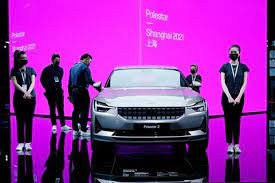 The Polestar badge was previously used to denote high-performance derivatives of Volvo's range of cars and SUVs. While Polestar has yet to arrive in India in its current guise as a standalone brand, the Polestar badge was previously used to denote high-performance derivatives of Volvo's range of cars and SUVs. Some of these, such as the previous-generation S60 Polestar, were available in India. There is presently no information on a Polestar debut in India; however, Volvo plans to sell the all-electric XC40 recharge in the nation later this year, with reservations beginning in June 2021. The C40 Recharge is also on the way, with a planned release date of 2022.
Are you excited about the launch of the 2022 Polestar 3? Comment down below
Also, see
2021 Ferrari supercar To Unveil On June 24